Kauai is a grooming ground for surfers and has produced numerous champion surfers, including the three time world title winner Andy Irons.
Offshore winds and ample amount of wind swells and ground swells ensure that Kauai gets high surfs all through the year.
Depending on what time of the year you visit, the favorable surfing locations may vary. During summer months, i.e, May through October, the south shore takes center stage. Although the south exhibits consistent wave conditions most of the year, the biggest south swells can be seen during summer.
During winter, i.e, November through February, the north shore attracts the most attention. This is when surfers from all over the world flock to Kauai to ride the 30-40ft ocean swells.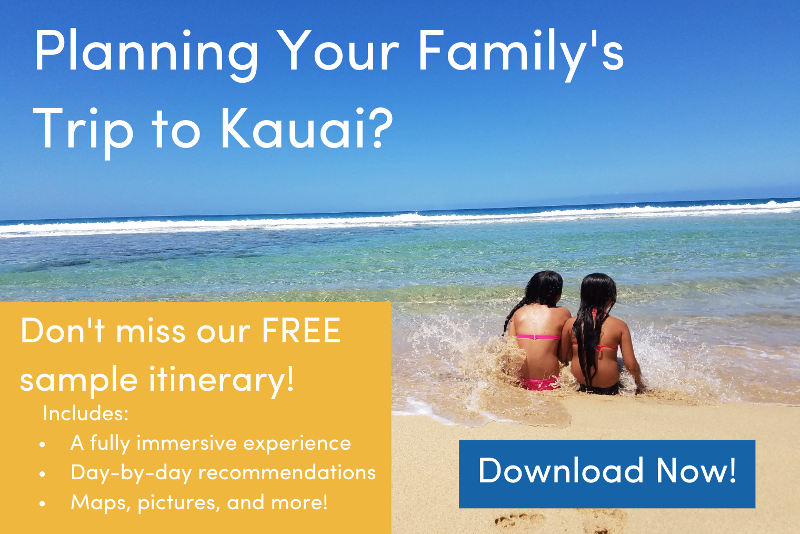 Here is a list of the best locations to surf on Kauai for a great experience:
1. Hanalei Bay
Lovingly called the Crown Jewel of North shore, Hanalei Bay is a beautiful crescent shaped beach which offers the best water sport experience on the north shore. During summer, the inviting ocean conditions are well suited for beginner surfers and paddle boarders, who wish to start with a good surf lesson.
However, the winter swells here are not beginner friendly and can be handled only by experienced surfers.
Hanalei Bay provides a range of waves in a small area. The shorebreak before Princeville Resort offers the most favorable surfing conditions with cleaner waves and hence, is usually crowded.
Tunnels beach, to the east of Hanalei, is also popular among surfers for its rough waves that can go upto 20 ft in height. This is for experienced surfers and not for beginners because of the dangerous waves breaking on rocks and the shallow and sharp reef that pose a danger.
Hit the waves early before the winds mess with the waves and break them. Reputed Surf schools operating on Hanalei bay will give you the necessary knowledge on dealing with the waves safely.
Location: Hanalei, North Shore
Lifeguard: No
Facilities: Restrooms, Showers, Picnic Tables
Best suited for: Beginners and Experts
2. Kalapaki Beach
Fronting the Kauai Marriott Resort, is a beautiful beach that is best suited for learning surfers. Kalapaki beach is guarded by protective breakwalls, extending from nearby Nawiliwili Harbor.
These protective walls safeguard the beach from large, unprecedented waves and cause gentle wave conditions. Kalapaki beach has one of the most consistent surfs on the island as a result of offshore winds, that make the waves break more cleanly and slowly.
There are surfboard and paddle board rentals on the beach along with shopping outlets and eateries for you to have a great time.
If you need a break from surfing, grab your favorite flavor of shave ice from Kalapaki Beach Hut and relax in the beautiful setting, watching other surfers doing what they do best.
Location: Kauai Marriott Resort, Near Lihue Airport.
Facilities: Park, Jogging path, Picnic Tables, Beach Volleyball court
Lifeguard: No
Best suited for: Beginners and Experts
3. Kealia Beach
Kealia Beach is another popular location among surfers and exhibits strong currents and wind swells.
Unlike Kalapaki, Kealia beach remains open and exposed. Although the waves are pretty consistent throughout the year owing to ground and wind swells, the constantly changing sandbar may cause unprecedented and powerful wave breaks. The surf can get dangerous sometimes and it's best to consult lifeguards before heading towards the ocean.
If you want controlled conditions, you can head over to the north end of the beach, inside the jetty. The northern area is popular among surfers as the rock barrier protects the ocean from strong winds.
Apart from surfing, this beach is a popular whale watching spot during the winter season. The coastal bike path Ka Ale Makalae runs along the Kealia beach stretch, which makes sight seeing all the more attractive here.
Although popular for surfing, boogie boarding and swimming, the rocky and sandy ocean makes Kealia beach a less favourable location for snorkeling.
Location: Along Kuhio highway, north of Kapaa.
Lifeguard: Yes.
Facilities: Covered picnic area, restrooms
Best suited for: Intermediate and Expert level surfers.
4. Kahili Beach or Rock Quarry
Kahili beach is at the ocean side of Kilauea Bay. During summer, Kahili beach has the best conditions for surfing. During winter, the consistent, small waves turn into longer and more powerful ones, making them less safe.
From the dirt parking lot, there is short sandy pathway leading to the beach. Along the path you will see a river to your left and the beach to your right. Surfers can diverge anywhere towards the right to check for favorable surfing conditions.
The end of the path leads to the meeting point of the river and the ocean. This is where you'd want to be if you want to swim or learn to surf. There's a nice freshwater spot to rinse off after an eventful day of surfing.
There are ample trees in the area where you can settle down and have a quiet time by yourself. You can also get ahold of kayaking equipment and head over to nearby Kilauea stream for a good paddling trip.
Location: Wailapa road, Kuhio highway (Highway #56)
Lifeguard: No
Facilities: No Restrooms, Dirt Parking lot.
Best suited for: Beginners and Experts
5. Kekaha Beach
This is a 12 mile stretch of white sand beginning at the southern end of Napali cliffs. Although uncrowded, surfers love this beach for the strong ocean currents.
Kekaha beach is characterized by rough ocean conditions. Since the ocean is open and vulnerable to winds, surfers find excitement in taming the large and fast waves. There are numerous shorebreaks along the stretch among which the Southern end shorebreak is where most surfers flock to.
Surfing aside, kekaha beach is also well known for long sunset walks and for a splendid view of the forbidden island of Niihau. Local fishermen and sunbathers often exhibit their presence on the beach, although sunbathing can be risky because of ongoing motor vehicle movement.
Location:Highway 50, Kekaha
Lifeguard: Yes
Facilities: Restrooms, Showers
Surfing: Best suited for experts
Summary and Infographic
Surfing doesn't have to be an experiential activity. If you cannot muster the courage to grab a surfboard and head towards the ocean, there's nothing to worry about. it's fun just to watch the raging waves and experts surfers doing what they do best. Just sit back with a glass of your favourite cocktail and watch experienced surfers tame those waves with their acrobatics.
A word of caution: Before taking a plunge into the ocean, always study the wind and ocean conditions for the day. This will give you an idea of places where you can surf safely. Having a friendly chat with other surfers or lifeguards can prove helpful.
Summary
Article Name
5 Best Locations for Surfing in Kauai
Description
Kauai is a grooming ground for surfers and has produced numerous champion surfers. Here are 5 of the best locations to surf on Kauai for a great experience.
Author
Publisher Name
Publisher Logo