Explore the Ultimate NaPali Cruise
BOOK NOW - SEARCH BY DATE
#1 on Kauai Guide books and more!
Enter Multiple Sea caves
Smaller Crowds
Family Fun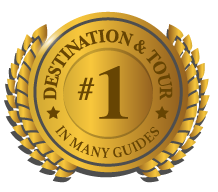 Why Tour With Makana Charters?
During your time on Kauai, you do not want to miss a Na Pali Coast tour. Guests and locals alike constantly remind us that it is some of the most inspiring and breathtaking views in the world.
But if you've never been to Kauai before you might find it hard to choose the right activity. While some may choose a tour from the air, we think the only way to feel immersed in the coastline is to see it by boat. But even then the decision can be difficult with so many different boat tour operators.
We hope that you will choose Makana Charters and tell us afterward that it was a highlight of your time on Kauai, and join thousands of other happy guests who have told us just that.
Here are a few facts about Makana Charters that we are proud to share. Combine them all and you have what we humbly consider Kauai's best Na Pali Coast tour:
1 NATIVE HAWAIIAN OWNED. Our family has ancient roots on the island and Na Pali Coast. We believe the best way to share Aloha is to show people from near and far the beauty and powerful mana that is found on one of the most remote coastlines in all of Hawaii. When you call us on the phone, you are speaking to the family who has put their heart and soul into giving you the best experience possible.
Our crew are all long time locals who share their love of the island and ocean which shines through every day they head out. They are happy to talk story and answer questions along the way, sharing insight and hawaiian history that is only gained through years of doing what they love.
2 IDEAL SIZED BOATS. Not too big, and not too small. Our boats are the perfect size for traveling the Na Pali coast in comfort, yet small enough to navigate inside the many sea caves safely. Our largest boat Na Pali Kai 3 was built specifically for taking guests onto the Na Pali Coast. Makana is the perfect size for small groups up to 12.
3 GREAT VALUE. We are aware that traveling to Kauai is expensive. We are in business for the love of the ocean and the Na Pali Coast. For this reason we are proud to keep our prices very reasonable, ensuring that you feel like you got excellent value for your money.
4 CLOSEST YEAR ROUND DEPARTURE POINT. We depart from Kekaha harbor, which is the closest point that boats can safely travel the coastline year round. Many boats on the south shore leave from Port Allen, which can be up to an extra hour approach time than from our location. Spend more time on the coast and less time accessing it!
5 15 YEARS EXPERIENCE. We have been doing this for a long time and hope to continue to do so. We have learned what works on tour and what doesn't, and have crafted a tour that is safe, fun, and unforgettable.