Privately See the World's Most Famous Coastline!
Experience The Best Na Pali Coast Tour!
Book Any Of Our Boats For A Private Tour!
BOOK NOW - SEARCH BY DATE

These private tours are very popular with us. From couples, to a larger family, group of friends, business groups or wedding groups vacationing here on Kauai, If you have a group that wants to guide and relax without others around you, this would be highly recommended to consider booking a private charter on the Na Pali Coast.
We offer the Makana boat up to 12 Passengers, if your group has more passengers the Na Pali Kai 3 would be to consider. We also have our new first class private charter (Hina'ea) for up to 6 passengers. Please contact us to discuss or plan a tour for you and your group.
Exclusive First Class Private Charter Experience
Experience a More Intimate Journey
Explore Multiple Sea Caves & Sea Life
More Information About Our 4 Boats
NA PALI KAI III
- Up to 32 Pax
- Our amazing catamaran!
Dive in for the ultimate experience, the Na Pali Kai III does it all! She gets up close and explore sea caves, This vessel is equipped with powerful twin 370 hp Cummins diesel engines with Sea Fury surface drives that give a fast and comfortable ride to the NaPali Coast. 360 walk around for picture taking is ideal, known to be the smoothest riding catamaran on the NaPali Coast, larger On-board restroom, fresh water shower and easy access for boarding and snorkeling
Just Bring a Towel!
Deli Lunch
Snacks & mixed soft drinks
Snorkel Gear
4.5 - 5 hour NaPali Tour
Private 5 hour NaPali Tour: $5,409 plus tax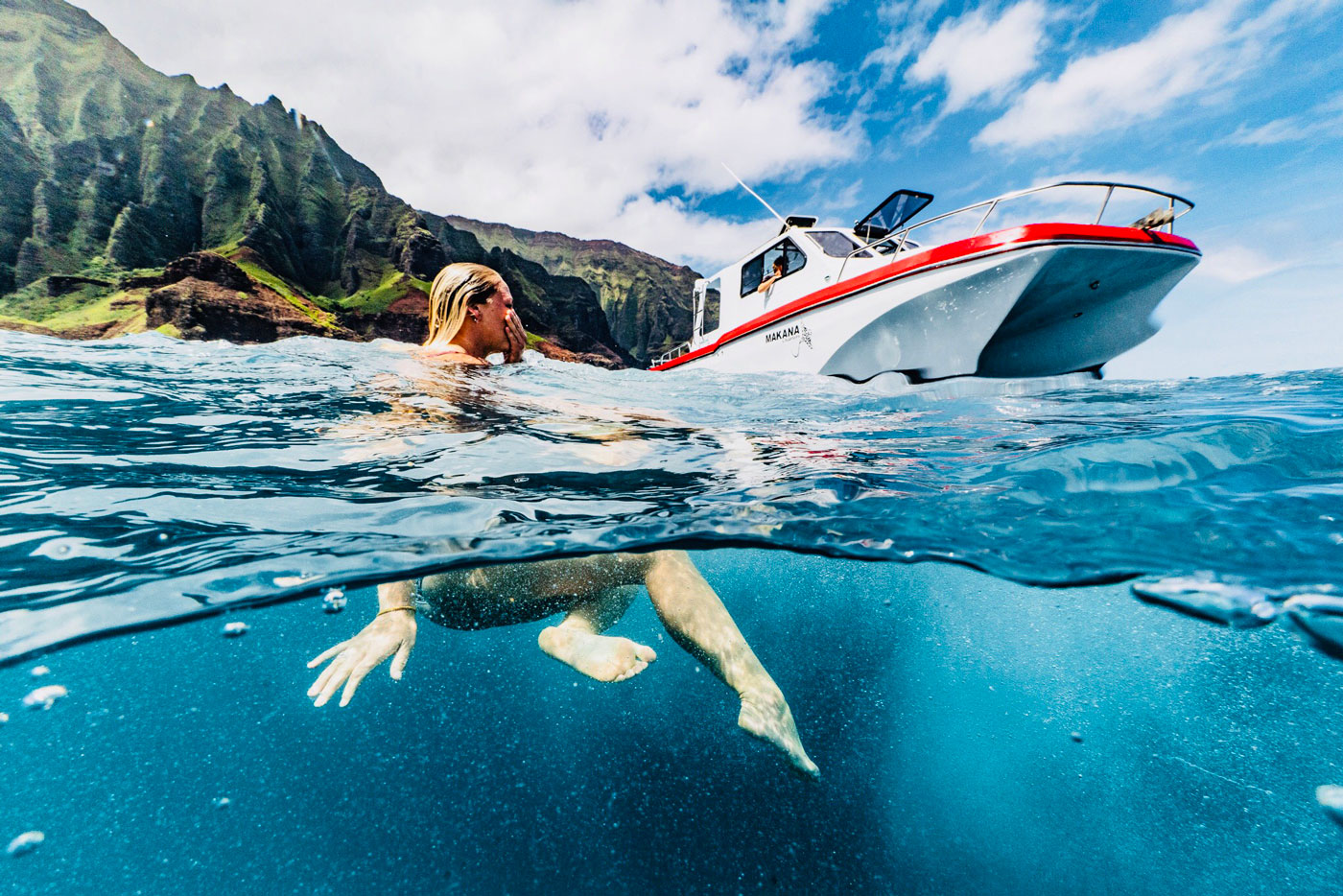 Makana
- up to 12 Passengers
The Makana is a comfortable 32' custom built Lightning Catamaran is powered by twin Suzuki 300hp outboards (600 hp) cruising at 20 to 22 knots. We are Coast Guard certified for 19 passengers with 12 seats for your safety and comfort.
Private 5 hour NaPali Tour: $2,268 plus tax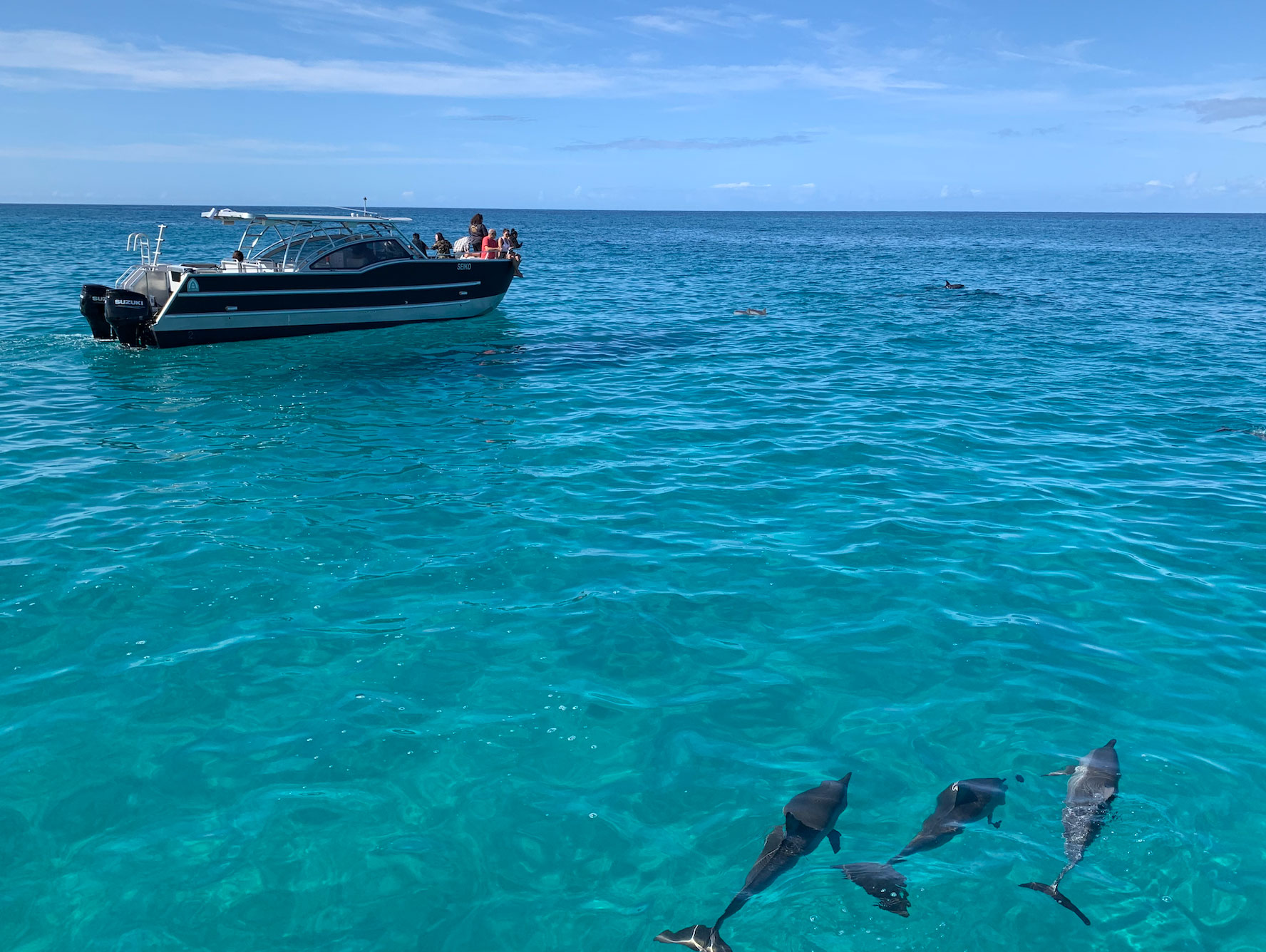 Our "New" Seiko up to 16 to 18 Passengers
Our beautiful new edition Seiko is a comfortable 34' Catamaran she's powered by twin 300hp outboards cruising at 20 to 22 knots. We are Coast Guard certified for 18 passengers with seats up to 20 we take 16 for your safety and comfort. We can carry up to 18 paxs for private charters.
Private Charter from $3,024 plus tax
New 27' World Class: Hina'ea
A first class private charter for up to 6 passengers.
This 27' Cat is full of luxury settings, very beautiful, smooth riding, and plush seating all across the board. If your group has 6 or under and looking for an intimate ride we can bet you'll be very satisfied! She is equipped with fresh water shower, On-board restroom, very plush seating and much more! Take control of your very own private boat charters.
Private 5 hour NaPali Tour: $1,599