It is historically the first landing point of European explorers.  Captain James Cook and his crew landed here in 1778.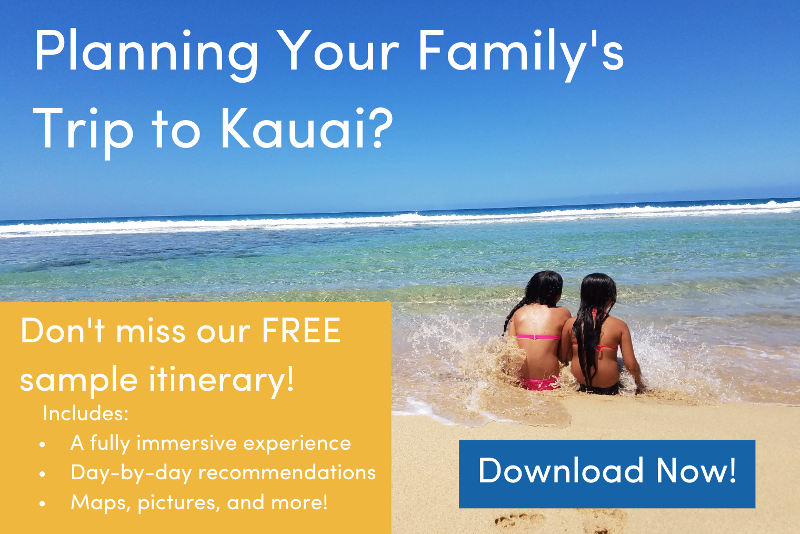 In the Hawaiian language, "Waimea" literally means "red water" – named after the dark color of the water in the bay.  This is due to the sediment brought about from Waimea Canyon – a spectacular sight of nature that is unlike anything else in the island of Hawaii.
Waimea Kauai  is a great place to spend  a few hours, especially before or after one of our spectacular Na Pali Coast tours.  If you are looking to see a real taste of a laid back Hawaiian town with a truly local feel, then you should definitely spend some time exploring our home town.
Waimea also is the main hub for visiting Kokee State Park, Waimea Canyon, and Polihale Beach.   All of these places are lesser-known attractions to Kauai, but should not be missed.  For Kokee and Waimea canyon, there are two different ways to access.  One is from Waimea Canyon Road which is right in the middle of town.  The other is past town towards Kekaha.  It is recommended that you take one road up, and the other one down – each provide their own views and excellent scenery.
A stroll through the town is definitely worth seeing.  Many of the buildings are over 100 years old, giving the streets a feeling as though you have stepped back in time.  You can pick up a walking tour map at our booking office, which is located immediately on your right as you cross the river entering town.  The small guide will give you a great overview of the town's best landmarks.
A trip to Waimea is not complete without a walk to the pier.  If you are able to make it out at sunrise and sunset, you will be treated with a spectacular view of the bay and beautiful colors.  You will also find the sunset on the beach to be much different than other beaches on Kauai – the black sand is unique to the area, and the dark colors will give you some picture-perfect memories.
A variety of restaurants are on the main drag, with something for every taste and budget.  If it is a nice night you might want to take the food to go and eat your dinner out on the pier to catch one of  Waimea's world-class sunsets.
Although a small town, in Waimea Kauai  is full of charm, which you will immediately discover after you stroll down the street and catch a local resident smiling at you.
Whether you are just passing through on your way to West Kauai's natural wonders or want to stay a few nights and stroll along the several miles of black sand beach, you will immediately feel Waimea's charm.  So please come and check out our humble town.  You'll be happy that you did.
This guide is brought to you by Makana Charters, a local Hawaiian family owned tour boat based out of the West side.   We offer daily trips to the spectacular Na Pali coast, a natural wonder not to be missed.  We are providing this guide to give our guests the best possible experience while visiting our island paradise.