Waimea Canyon,  this is definitely  a "must see" for things to do in Kauai!
On Kauai's west side, just past the historical town of Waimea, is a road to a place that you have to see to believe.  Even when you see photos, the sheer size of the area leaves you in amazement.  Nicknamed "The Grand Canyon of the Pacific", you will soon understand why when you are at the top looking over 3,000 feet downward.
Created over millions of years of steady erosion that originates at Mt. Waialeale, the wettest spot on earth, Waimea Canyon is literally a trip back in time.   For anyone interested in geology it is as educational as it is beautiful.  You can see the rift line where part of the island (which is actually a massive extinct volcano) broke off and shifted downward.  Either side of the canyon has very different visual characteristics.  More information can be found on the Waimea Canyon Wikipedia Page.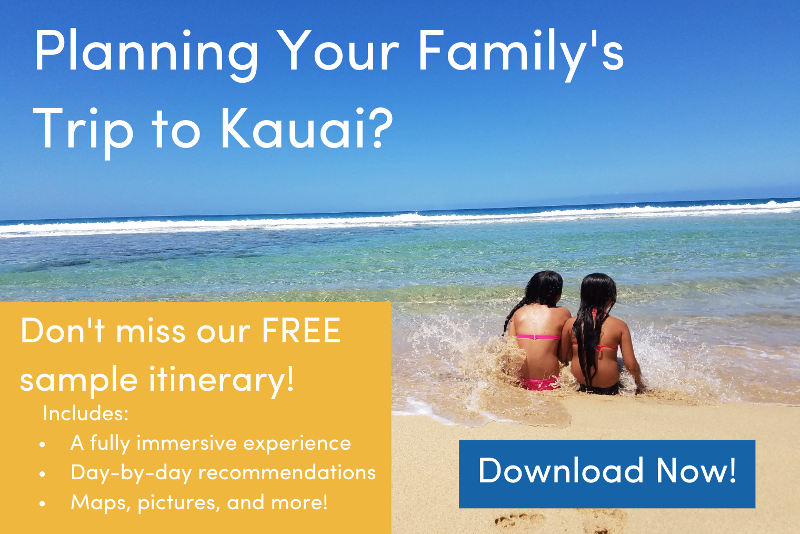 Take a look at this link as we found this to be very helpful if you are planning on hiking or exploring the Waimea Canyon trails. Mapbliss.com
There are two main viewpoints that are clearly marked from the road.  You should definitely check out both, as they each offer unique vistas – one looks from the west side looking east, and the other is at the  head of the canyon looking all the way down toward the sea.
Many hikes in the area allow you to explore the canyon up close.  They range anywhere from one hour to full-day epic excursions.  Be sure to bring plenty of water with you and be cautious of the many hazards such as rockfall, flash flooding, and of course the dangerous fall to the canyon floor below.
We recommend the hike to Waipo falls.  It is a moderate hike that traverses the canyon through forest, open red rocks, and eventually ending up at a small waterfall with swimming hole.  The waterfall's strength varies with the season – in summer it can slow down to a trickle, but in winter it is fast and heavy.  The hike displays something for everyone as the plant life changes quickly with elevation – there are noticeable differences in different species between the top and bottom.  Bird life is also abundant for those who are interested in Birding – everything from cardinals to mockingbirds, as well as the native I'iwi if you are lucky enough to catch it's presence.  To get there, walk to the end of the parking lot at the Puu HinaHina viewpoint (the second one).  From there you will see a trail heading off toward the left.  The trail is clearly marked and all junctions have a sign.
Waimea Canyon sits adjacent to Koke'e State Park – another great destination to spend some time.  Even if you are limited in time it is worth a drive up the road to check out the Kalalau lookout where you can see sweeping vistas of the Na Pali Coast and Pacific Ocean.  But if you have enough time to explore, it is worth it to spend at least a day in each park – There are many camping options in Koke'e as well as a lodge – Click here for more information.
With the unforgettable views, high-altitude climate, and amazing hiking options, your Kauai trip will not be complete without a visit to Waimea Canyon.  It should be near the top of your things to do list, especially if you are visiting the area to cruise the Na Pali Coast.  Whether you spend a couple hours or a couple days, the sights are one of a kind and will leave you wanting to explore more.
This guide is brought to you by Makana Charters, a local Hawaiian family owned tour boat based out of Waimea on Kauai's West side.   We offer daily trips to the spectacular Na Pali coast, a natural wonder not to be missed.  We are providing this guide to give our guests the best possible experience while visiting our island paradise.