Welcome to Kauai! Our island is large, so if you're planning on visiting, you need a game plan to maximize your family's time here. Focusing your sightseeing on a particular location daily is the best way to optimize your time on the island—and avoid spending your vacation in the car.
To help you start experiencing the best our island has to offer right away, here's a Kauai travel guide that includes some must-see locations you can use as regional starting points. This Kauai vacation itinerary is also family-friendly, so you can make plans appropriate for groups including children.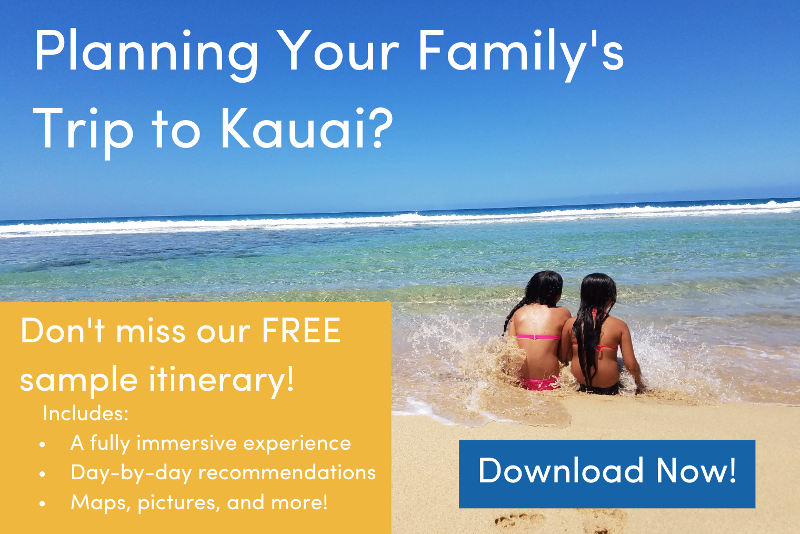 Sample Kauai Itinerary For Families
Day 1: South Shore
If you're staying on the south shore, take a trip to the beach nearest your accommodations. There are many protected beaches, which are perfect for families because they are blocked from rough surf. Some even have kids' ponds that young ones can safely play in (with adult supervision, of course!). A few of our favorite family-friendly beaches include:
Salt Pond: This Kauai beach is a favorite for locals and can get busy on the weekends. Right in front of the sandy shoreline is a protected lagoon that blocks incoming waves, and a lifeguard station is occupied most of the time in case something goes wrong. There's even an extra-shallow section for toddlers and kids who are just learning to swim, and a large grassy field that allows for other activities as well.
Poipu Beach Park: Located on the South Shore of the island just past the sleepy town of Koloa, Poipu is a great family-friendly beach spot perfect for snorkeling, sunbathing, and surfing; it also has a children's playground.
Day 2: The West Side
We recommend dedicating a full day to two of our favorite family activities on the west side of Kauai: exploring Waimea Canyon and chartering a boat with Makana Tours. This is a great combination because both attractions are on the same side of the island—the entrance to Waimea Canyon and Makana's launch point are just five minutes apart by car.
Waimea Canyon State Park. This is a must-do destination, but come prepared—it's a long drive through the park, and there are many stops and lookouts. Realistically, it takes at least half a day to enjoy the wonderful natural setting, especially with kids. There are a lot of things to do here, including trails and hikes. Be sure to pack a picnic lunch or snacks!
Makana Charters. Some boat companies turn down families with younger children, but our boats are built for families! They have restrooms, your kids can walk around, and we travel closer to the coast's sightseeing area, where we feel it's safer.
Want to get the full itinerary?
This is just a glimpse of the full itinerary for a one-week vacation. To get our local recommendations for a full seven days in Kauai, download our free guide below!