Blessed with lush sceneries and forests, an early morning hike catching Kauai's stunning sunrise would be a brilliant way to start the day. Some might also prefer grabbing a surfboard and head towards the ocean to greet the morning waves. But before breaking a sweat from so many outdoor escapades, a perfect breakfast should come first – one that's healthy, delicious, and equally satisfying.
It's easy to become a morning person in Kauai, and breakfast surely fits the relaxed and carefree vibe of the island. From food trucks to stands, to elegant farm-tasting menus and cute cafes, there are countless choices to choose from for your first meal of the day.
For your next trip to Hawaii's Garden Isle, check out these exciting and unique breakfasts and brunch spots in Kauai. We've gathered places that offer different price points as well as seating and scenery.
8 Best Breakfast and Brunch Spots in Kauai
1. Oasis on the Beach
The Oasis is one of the few restaurants in Kauai that has ocean-front dining. Strategically located in the Waipouli Beach Resort, this restaurant is famous among tourists and serves locally grown and harvested ingredients.
Along with exemplary service and lovely Hawaiian ambiance, you can experience a feast of fresh seafood for breakfast, lunch, and dinner. Their dishes are exceptional because of the creative Hawaiian twist that they add to traditional dishes. Being situated in a popular beach resort, this restaurant's options can be pricey, but they sure know how to bestow customers with a view that makes all the spending worth it.
When you drop by for a taste of their menu, definitely try their famous Loco Moco and Oasis Benedict. The dish features the delicious Hawaiian poké over rice and avocado mousse – a treat you shouldn't miss on a trip to the island.
2. Kilauea Bakery and Pizza
If you are headed to the Kilauea Lighthouse, this pastry and pizza hub is a great place for a quick stop. It's also a popular and convenient place to grab a sumptuous breakfast before going out to catch waves.
Buried from the numerous strip shops in the historic Kong Lung Market Center on Kauai's north shore, this tiny brunch spot offers a wide variety of pizza flavors, salads, sandwiches, soup, and drinks that are all good for breakfast. The bakery also has a special selection that includes gluten-free, dairy-free, sugar-free, and vegan food choices.
The Kilauea Bakery and Pizza is particularly conscious about keeping their operations sustainable. This little spot makes sure they always use compostable cups and utensils instead of plastic and styrofoam. Being a relaxed family-run shop, you can also expect affordable prices and something for everyone of all ages on their menu.
On weekends, the bakery often entertains its visitors by featuring local artists and displaying local artworks while they sip on hot or ice-cold coffee. Tourists and locals come for the food, but this little corner in Kilauea is mostly known for the perfect Kauai morning experience.
3. Small Town Coffee
Perk up your day by enjoying coffee and breakfast on a scenic patio from this mini-bus turned cafe. Small Town Coffee hosts an extensive menu of locally roasted organic coffee, exotic Ethiopian blend, and other artisan coffee.
Aside from their delectable coffee, this nifty cafe also serves tea, acai bowls, breakfast bagels, and even vegan and gluten-free pastries. They've been around for an impressive 13 years and customers just keep coming back. Kauai is one place to go for a coffee adventure and Small Town Coffee would definitely make a great first stop.
Located at the Kuhio Highway in Kapa'a, award-winning baristas prepare your breakfast while you relax or get your work done under the shade of their iconic red umbrellas. They open as early as 6 in the morning – perfect time to start a morning in Kauai.
4. Kalalea Juice Hale
Drink your breakfast? Why not? This vibrant orange shack located along the Kuhio Highway by Anahola serves blended superfood to fill you with energy throughout the day. They serve locally-sourced and organic ingredients not only for the health of the people but for their land as well.
For a supercharged breakfast, try pairing one of their fresh acai bowls with cold coconut water. A fantastically refreshing combo, but it gets better with the hut's majestic view of Kalalea Mountain. It's right by the road along Pu'u Hale Loop, making it a great pitstop between long car rides.
5. Kauai's Farmers' Markets
Sporadically distributed around the entire island, Kauai's farmers' markets can be found thriving any day of the week. Going out for breakfast is something you should try more than once when in Kauai – the island has so many spots to show off! But just as rewarding and delicious is preparing your own meals at home with the island's fresh produce.
Almost every town in Kauai has a farmers' market. The one in Hanalei, for example, opens as early as 9 in the morning, with some stalls serving tropical fruits and juices you can have for breakfast. Another one that pops up at Kekeha Neighborhood Center opens at 9 A.M. on Saturdays and can offer quite a unique experience. At this farmers' market, nothing is sold before a loud blow of a whistle. As soon as the selling starts, almost everything gets sold in an hour and everyone goes back home to cook with their market haul.
6. Gina's Anykine Grinds Cafe
Found along Kaumualli Highway right next to the Waimea Theater, Gina's Anykine Grinds Cafe makes for a practical and hearty breakfast stop. Along with great smiles and quick service, the cafe serves various breakfast favorites such as omelets, bacon, and coffee.
If you're looking for a filling first meal, you should definitely try one of the burgers this little mom-and-pop restaurant is famously known for. Their burgers are made with local grass-fed beef, which results in the tastiest patties. For your first time, try their huge lava burger or mini loco moco.
7. Kalaheo Cafe
Another friendly cafe you'll find on the way to Waimea Canyon is Kalaheo Cafe. This spot opens as early as 6:30 in the morning and readily serves various breakfast platters and other delicious starters.
Kalaheo is known for serving deliciously fresh food. Whatever you pick for breakfast, you can be sure to get food that's made with crisp produce. Like most places in Kauai, Kalaheo's coffee selections are just as good as their food. Have your meal indoors or enjoy the nice atmosphere their open-air dining area provides. This small local find is easy to love and you're sure to want to spend a little more time just enjoying your morning here.
8. Anuenue Cafe
Another popular restaurant for breakfast in Kauai is Anuenue Cafe. Located in Kiahuna Plantation Drive in Koloa, the menu here features organic, local, fresh ingredients like Makaweli Beef, Anahola Granola, Kauai Roastery Coffee, and all the best local fruit and produce from Kauai.
Anuenue Cafe is open 6 days a week — closed only on Thursdays.
Get Your Breakfast On
Being abundant with fresh produce and amazing coffee, Kauai is definitely one breakfasting haven. You're sure to always find a spot serving delectable meals to power up your mornings.
If you're on a budget and enjoy homecooked meals better, there's always a market to explore around the corner. You'll always find crisp fruits, vegetables, and seafood that will make cooking at home more enjoyable.
So get up early and try all these little hidden gems around the island! After all, breakfast is the most important meal of the day. We hope this list helps you see and experience more of Kauai's beauty, culture, and adventures in store.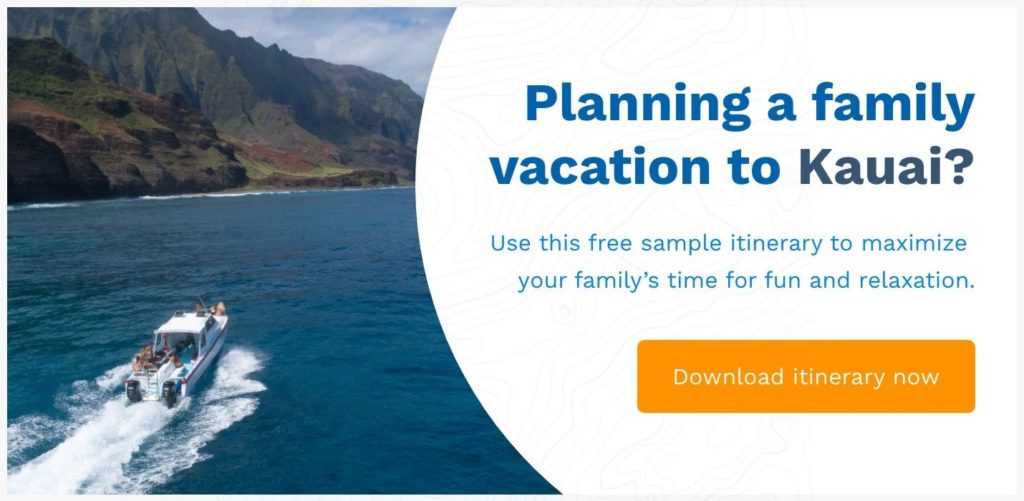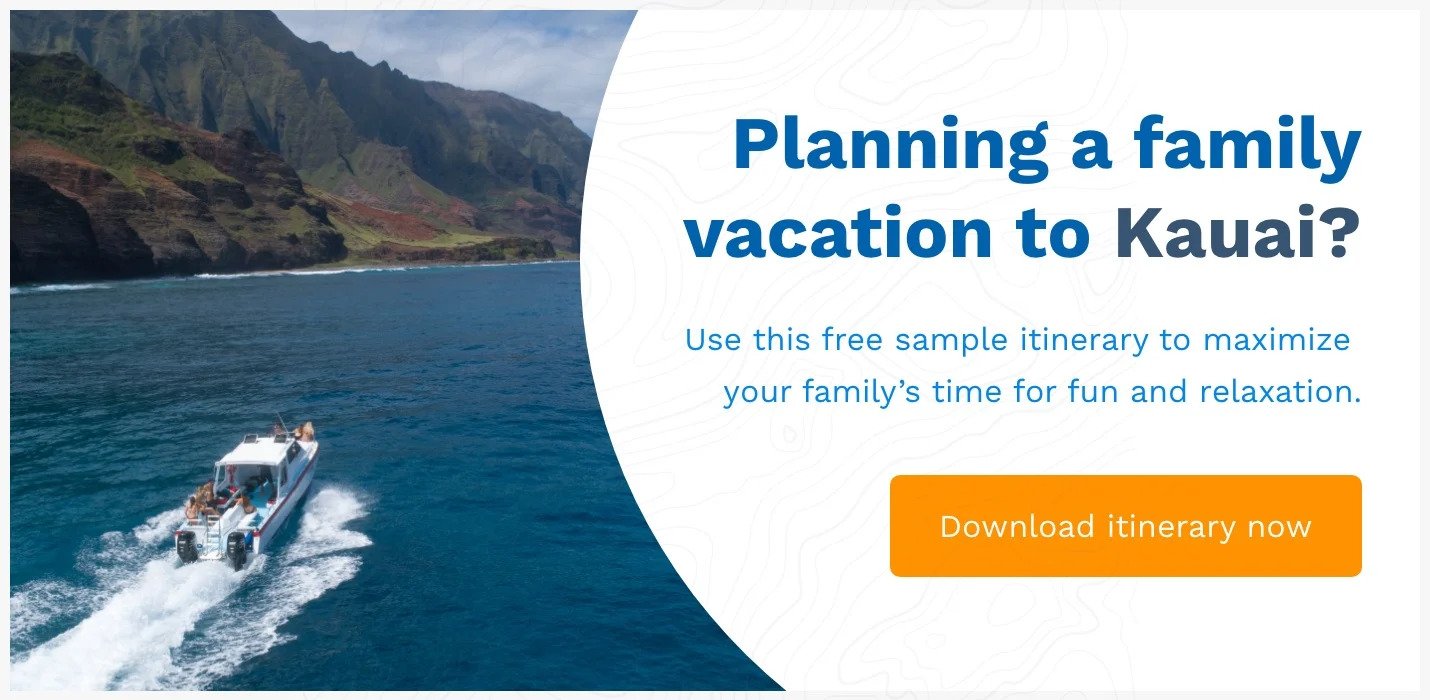 Top 7 Breakfast and Brunch Spots in Kauai [Infographic]
Related Articles
Summary
Article Name
Top 7 Breakfast and Brunch Spots in Kauai
Description
For your next trip to Hawaii's Garden Isle, check out these exciting and unique breakfasts and brunch spots in Kauai.
Author
Publisher Name
Publisher Logo