The Hanapepe Swinging bridge is a historic suspension bridge that was built in 1911. It is a long narrow bridge which is still used by the residents of Hanapepe to cross the Hanapepe river.
Though old, the bridge that we see today is a renewed version as it was restored four years after the damage done by hurricane Iniki in 1992. The new bridge is solid and sturdy, made of reinforced steel cables and wooden planks. Though it makes a creaking sound while crossing, there is no reason to question its robustness.
This little bridge in Kauai's 'Biggest Little Town', gets its name from its swinging nature. The swinging and bouncing of the bridge is an enjoyable experience for children while it can make some adults dizzy. Unlike most swinging bridges in the world, this one is short in height and is safe for family and kids to cross. Kids will love the place as they can run over the grassy patches beside the river and play around.
Compared to its counterpart on the west side of Kauai- the Waimea swinging bridge, this one is easy to cross and has good parking space for visitors. The Hanapepe swinging bridge is 3 foot wide and has wooden railings with protective meshes for safe crossing. Do not be overly dependent on the meshes as the changing seasons might have taken a toll on them.
The bridge has a load limit of 15 persons at a time. If there are people coming from the other end, you'll have to wait for them to pass, because of the limited width of the bridge. When you climb up the stairs, contrary to its name, you will come across a warning sign that says 'Do Not Swing The Bridge'.
The bridge is mainly used by residents and school going children who live on the western side of the bridge. It is advisable to cross the bridge and head your way back with respect for their privacy. However, there is an art gallery you can visit on the western side before you leave.
The Hanapepe swinging bridge is a popular attraction in Kauai and is worth a stop if you're in the west. However, don't expect something adventurous. This is a historic location that will make your heart hop with joy. The hundred year old bridge still stands strong (with some modifications) in a peaceful towny setting beautified by the clear river and surrounding valley. You will definitely leave the place with some awesome insta-worthy photos and beautiful memories.
Once you are done, you can add "Crossed a swinging bridge in Kauai's biggest little town" to your list of achievements!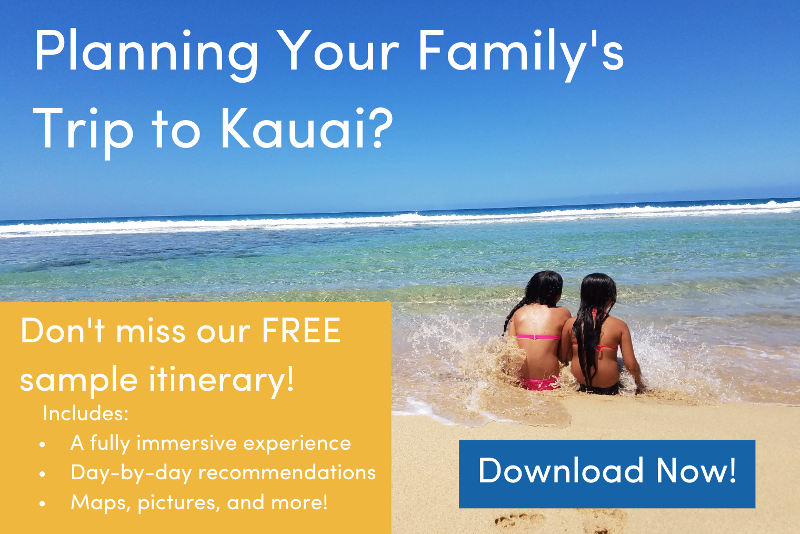 When To Visit
The Hanapepe swinging bridge is next to the Aloha Spice Company on Hanapepe road. If you are exploring the art galleries, boutiques and shops in the area, you can make a quick stop at the river and spend some time cherishing the good views of the Hanapepe valley.
Ideally tourists plan their Hanapepe visit around Friday, for it provides an opportunity to witness the Hanapepe Art Night that happens every Friday night. This is when the small town of Hanapepe comes to life. The swinging bridge is a good diversion to escape from the busy streets once you are done exploring the food trucks and local entertainment. This is a simple bridge in a peaceful village setting which might exactly be the place you are looking for to experience solitude.
Another good practice is to make a quick stop at the swinging bridge on your way to the Waimea Canyon.
Other Things To Do At Hanapepe
Salt Pond Beach: This beach is the only place in Kauai where salt is still produced in natural salt ponds. This salt is meant for use only for the local residents. The beach has a number of protected shallow pools with marine life that are great for kids to snorkel. With lifeguard, restrooms and camping facilities, salt pond beach is definitely worth a stop when you are in Hanapepe. If you are serious about camping, you will need a permit from the county.
Hanapepe Art Night: Every Friday, from 5pm to 9pm, the Big Little Town of Kauai comes to life. This is the time when all the local venders, food trucks, artists, musicians, galleries and restaurants are open and line the streets to give a bright display of local talent and culture. This weekly art night is being witnessed from 1997. Whether on a date or with family and friends, you will have a great time blending with Kauai's culture.
Kauai Soto Zen Temple Zenshuji: Established in 1978, this is the only soto zen temple in Kauai. It was built by its own members who possessed the skills of carpentry, design, plumbing and wiring, painting and gardening. Visit this place to escape from the busyness of the world and to have a peaceful and spiritual experience. Zenshuji will remind you of the teachings of the buddha and you will definitely leave the place feeling better about yourself.