One of the Top 3 Things do in Kauai is to explore the Waimea Canyon – Koke'e State Park. Up the road from the town of Waimea is an explorer's dream.
Most people who come to Koke'e State Park don't realize just how much of a gem they have at their disposal, and those that do realize are happy about that.  Once you get off the paved road, the busy-ness of the tourist trail drops right off and there is an expansive park with hiking, camping, and much more.
Waimea Canyon – Koke'e has numerous scenic trails that start from the beginning to the end of the highway.  Just about 4  miles up you'll see a the start of some very short trails.  There are variations of trails from a very short walk to very long hike.  Please be careful and be cautious due to our eroding conditions.
Nearly 4,400 acres large, Koke'e has so much to explore that even the most seasoned locals still have more to discover.  There are countless roads and trails that take you through the Kauai highlands, giving you amazing exposure to the natural wonders that exist everywhere you go.
Koke'e feels like a different world than what you see and feel at sea level.  The high elevation gives access to many plant species that you do not see in lower elevations.  The climate is cool and moist, and when the hot sun is beating down at the beach, Koke'e usually has a cool breeze that keeps you refreshed.
The park starts right after passing the canyon.  But don't turn around after the canyon – you can still drive another 10 or so miles to the end of the road.  Right before the road ends you can find the Kalalau Lookout – an unbelievable sight that will leave you breathless (when it's sunny). The lookout has public bathrooms and an open grassy space perfect for a picnic.  There are railings to ensure you don't fall over the edge, which is a very good thing considering the viewpoint sits at 4,000 feet above sea level.
It's a shame that many people pass through Koke'e without camping out.  The stars you find at night feel so close that you can touch them.  In fact, NASA has a station here, so there's got to be something to that theory.  If camping is not for you, you can always stay at the Koke'e Lodge, which has comfortable cabins at a reasonable price but consider it as a camping treat.  To learn more about accommodation in Koke'e please call 1 (808) 335-9975 ext. 26.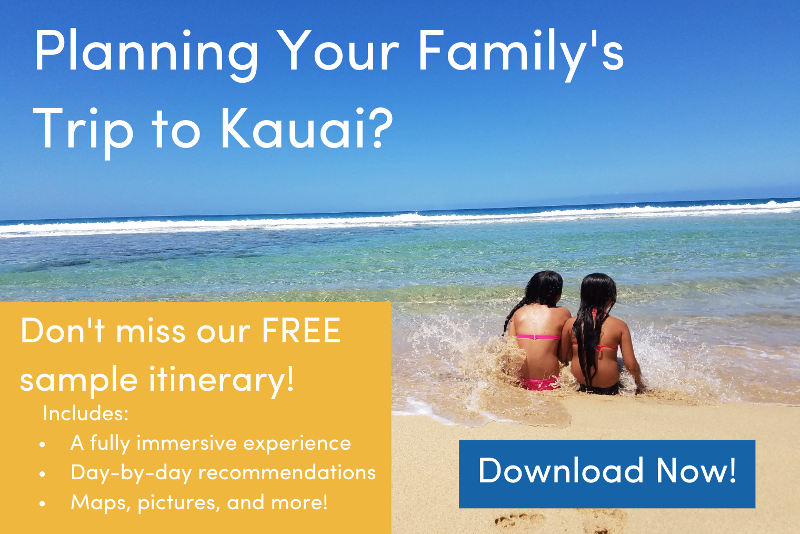 Hiking Kokee Kauai
Here is a list of the top hiking trails for your enjoyment.  For a detailed map and further directions, visit the visitor's center at Koke'e Lodge.
Alakaʻi Swamp Trail- 3.5 mi (5.6 km). This trail winds through the misty high country to eventually lead to one of Kauai's most spectacular panoramic vistas.
Awaʻawapuhi Trail-  3.25 mi (5.23 km). This trail heads westward looking out toward the Pacific Ocean along a high ridge.  You see some gorgeous views of the Na Pali coast with dry vegetation.
Berry Flat Trail- 0.6 mi (0.97 km).  This is an easy trail if you are pressed for time.  Here you see a variety of tree species – some native, some introduced.  It's interesting to see Koa trees side-by-side with California Redwoods!
Black Pipe Trail- 0.5 mi (0.80 km).  This is an alternative route for the Canyon trail – named because of a black pipe running across the trail…
Canyon Trail- 1.8 mi (2.9 km). This trail can be busy so it is good to go at off-peak times.  But it's busy for a reason, the amazing views of the Waimea Canyon and exposed access that makes you feel part of Kauai.
Cliff Trail- 0.1 mi (0.16 km). Another great trail that gives you amazing views, immersing you in the scenery.
Halemanu-Kōkeʻe Trail (Halemanu Road) – 1.2 mi (1.9 km).  A good forest trail that winds through mostly-disturbed (through hurricane and logging) Koa forest.  Access via the Faye trail.
Iliau Nature Loop-: 0.25 mi (0.40 km).  A good easy trail that has interpretive signs identifying plant life.  There are also gorgeous vistas of Waimea and Wai'alae Canyons.
Kaluapuhi Trail- 1.6 mi (2.6 km).  A great trail for birders.  It winds through some gorgeous forested groves of native flora, attracting a diversity of bird life.
Kukui Trail- 2.5 mi (4.0 km). Steep trail that descends into the canyon.  Not recommended for beginner hikers.
Nature Trail- 0.1 mi (0.16 km). A nice easy trail to familiarize yourself with the local plant life.
Nuʻalolo Trail- 3.75 mi (6.04 km). This trail winds through native Koa forests with a large elevation change, rewarding those who navigate it with amazing views of the Nu'aolo Valley.
Pihea Trail- 3.7 mi (6.0 km). This trail winds around the ridgeline surrounding the majestic Kalalau Valley on the Na Pali Coast.  Amazing viewpoints and photo opportunities from every step of the way.
Waininiua Trail- 0.6 mi (0.97 km). A nice trail for seeing a relatively undisturbed native koa forest.
Water Tank Trail- 1 mi (1.6 km). Another trail showing off the local Koa forest.
Wildlife
If you have a love of nature, you should definitely spend some time exploring this massive yet accessible park.  There are native plants, native birds, and insects. The Hawaiian state bird, the nēnē was re-introduced to Kauai after nearly becoming extinct in the 1950s. Various types of forest birds can also be spotted here, such as the i'iwi and the black-billed 'apapane.
You will be rewarded with peaceful solitude with just a small venture off the busy trail.  Many people only think of beaches when they come to Hawaii, but missing out on the rugged inland terrain of Kauai would be disappointing.  So come out and enjoy the Kauai's high country, and see a side of the island that is often overlooked.
For another gorgeous hike in Kauai, check out sleeping giant trail.