While we are a little partial to Kauai, we have to admit that each island in Hawaii has something unique to offer. You can find adventure, relaxation, and jaw-dropping views on each of the six islands that allow visitors, but one may spark your interest more than others. So, here is a short guide to each visit-able island. Just don't be surprised if you can't choose just one!
Kauai (aka "The Garden Isle")
Of course, we have to start with our home. While also famous for the Na Pali Coast, the Grand Canyon of the Pacific, and having a lot of roosters roaming around; Kauai's lush setting is what earned its lovely nickname. If you've ever visited our beautiful island, the extreme variance in scenery may have stood out the most – from dramatic cliffs to jungle-like rivers to a deep canyon, and lots of epic views in between. There is no end to the awesome activities available in the ocean and on land.
Top Places to See:
Waimea Canyon State Park
Na Pali Coast (Tip: Book a boat tour in the afternoon for the best lighting for photos).
Princeville Botanical Gardens
Hanakapiai Falls
Polihale State Park
Kalalau Trail and Lookout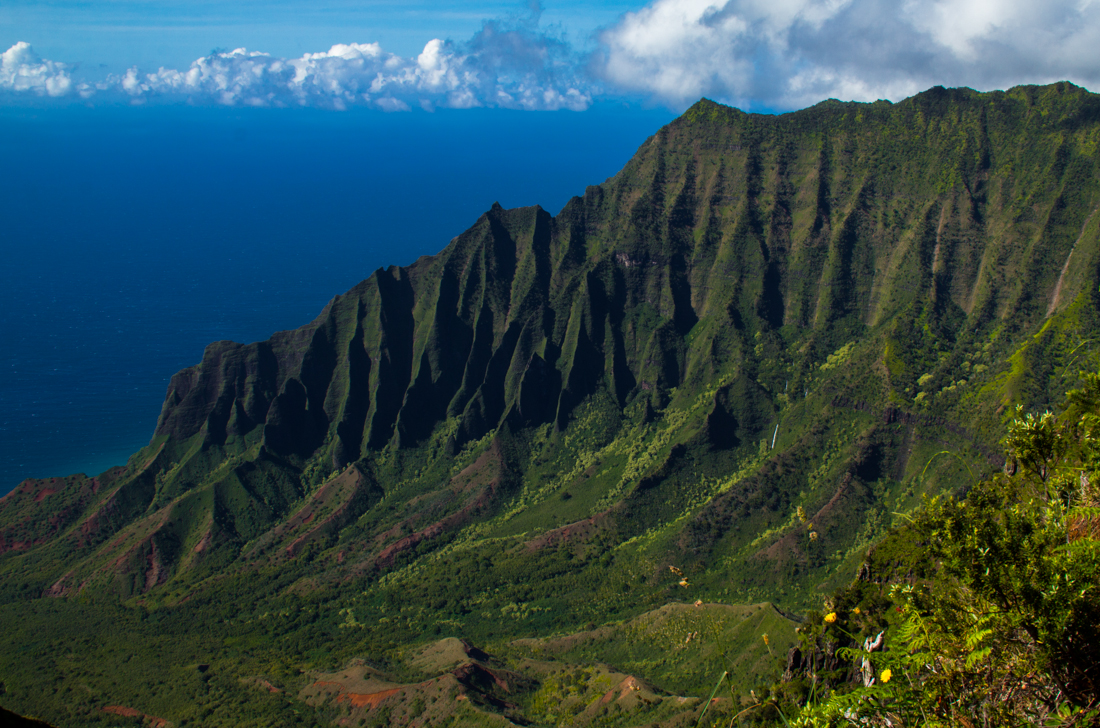 Oahu (aka "The Gathering Place")
Since this island is home to the state's capital (Honolulu), a large military base, and the biggest hub for air travel in Hawaii, it is no surprise that 85% of the state population lives here. It is known for being busy with tourists also – but is still a beautiful place to visit with many famous snorkeling spots, and tons of epic big-wave surfing.
Top Places to See:
Pearl Harbor
Kualoa Ranch
Hanamua Bay
Waikiki (Tip: Go on Friday for the fireworks!)
Dole Plantation
Diamond Head
Lanai (aka "The Pineapple Isle")
While pineapple was once the major crop of the island, you won't find fields of the delicious fruit there anymore. However, they do hold an annual festival to celebrate this important part of their past. While tiny compared to many of the other islands, it still has a lot to offer in way of views, activities and history. It is a great day trip from Mauai, and you can get there either by plane or ferry.
Top Places to See:
Lanai Cat Sanctuary
Garden of the Gods (Tip: Make sure your vehicle can handle the roads!)
Shipwreck Beach
Dole Park
Sweetheart Rock
Maui (aka "The Valley Isle")
This island gets its nickname for the large isthmus between its two constituent volcanoes – with Haleakala being the most popular to visit. Maui has a very California vibe and is full of adventure. Just plan ahead to make sure you can fit it all in! It's another popular one with tourists, so activities can get busy.
Top Places to See:
Road to Hana
Wai'anapanapa State Park
Haleakala National Park (Tip: Book ahead to visit at sunrise).
Banyan Tree Park
Iao Valley State Park
Molokai (aka "The Friendly Isle")
Although this island is the distinctively least touristy (and wants to stay that way), it is also home to some of the happiest people you will ever meet – if you embrace their slower-paced way of life. While not as much to do as the other islands, it has a rich – somewhat dark – history including the site of what used to be a leper colony.
Top Places to See:
Papohaku Beach Park
Post-a-Nut (Tip: the post office has everything you need to mail a coconut, don't miss it!)
Halawa Valley Cultural Tour to Halawa Falls
Kalaupapa National Historic Site
Hawai'i Island (aka "The Big Island")
You can probably tell by its name that this island is the largest, but it is actually greater in area than all the other islands combined! It has also had a lot of nation-wide news coverage recently of its active volcano. But, the Big Island has much more than the volcano!
Top Places to See:
Hawaii Volcanoes National Park
Mauna Kea Summit
Kona Beaches (Tip: Don't miss the chance to dive with Manta Rays.)
Waipi'o Valley
Akaka Falls State Park
So, what about the other two islands in the chain? Well, Niihau (aka "The Forbidden Isle") is privately owned, and Kahoolawe (aka "The Target Isle") is an ex-target of Naval bombardment, so you won't be finding flights there any time soon. Luckily, there is plenty of snorkeling, hiking, photo-taking, and beach lounging to do on the other six islands to keep you busy for quite some time!