Explore the Ultimate NaPali Cruise
BOOK NOW - SEARCH BY DATE
#1 on Kauai Guide books and more!
Enter Multiple Sea caves
Smaller Crowds
Family Fun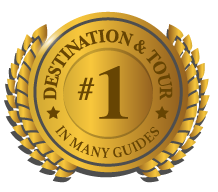 Frequently Asked Questions
Do I have to purchase tickets in advance?
Yes. To book a private charter or a shared charter, simply purchase one standard ticket for a charter up to 12 people. Trips often sell out so we suggest purchasing your ticket early to guarantee your desired tour day. You can reserve your tickets either Online or may call us at 808-201-2495
What happens if it rains?
Our trips usually run in moderate weather conditions. In the event of severe or unsafe weather conditions, ticket-holders will be contacted and allowed to reschedule tickets (subject to availability), receive credit for a future event, or receive a full refund.
Is this tour good for all ages?
in general this tour is appropriate for most ages depending on ocean conditions. Starting at 4 years old. You may want to check in to see how the weather and condition during the winter.
What is the difference between the Na Pali Coastal Tour on the Na Pali Kai vs. the Makana?
Both tours are the same and participants will share the same experience. The only difference will be the boat that guests will be on. The Na Pali Kai III is a little larger and powerful vessel that will give you an unforgettable comfortable experience. Na Pali Kai will take from 18 – 32 passengers. The Makana is for those who prefer an experience with a smaller group. The Makana is smaller and will take 12 passengers at most, the ride may not be as comfortable as the Na Pali Kai 3 but its sure fun. Or, If you are interested in a private charter with 12 passengers or less than the Makana would perfect! More than 12? Give us a call for the Na Pali Kai 3 to see how we can accommodate your party.
What makes Liko Kauai / Makana Charters Na Pali tour different from all the other boats?
Smaller group as we offer a personalized tour, we see more of the Na Pali Coast in a shorter amount of time giving us more time to show you the coast and to share the Hawaiian history, Our boats are built for the Na Pali Coast to see in and out in a much better perspective. We leave from Kikiaola small boat harbor which is the closest west harbor to the Napali Coast.
The trip departs from Kikiaola Harbor and we start the cruise by exploring the rugged cliffs that line Kauai's scenic Na Pali coast and hopefully catch sight of the dolphins that often swim alongside the boat. Once at sea we will ride along the Polihale shoreline to glimpse the pristine beaches and abundant vegetation that scale the surrounding ridges. As we continue pass the waterfalls that scatter along the Kalalau Valley, we will eventually make our way to several coastal caves for a bit of exploring. To end the trip we will spend an hour enjoying lunch, relaxing, and taking some time to snorkel the crystal-clear waters.
Will we see the sea caves on this tour? Do you go inside the caves?
Yes! Experience all of the sea caves, such as Pirates Cave (Waiahuakua), Rainbow Falls, and the famous Honopu Archway where King Kong, Six Days Seven Nights, James Bond, Pirates of the Caribbean and many more famous movies were filmed. We take you right into the sea caves (open ceiling cave, Pirates Cave and more) as long as the ocean allows us to.
What wildlife could we see on the trip?
Typically, we will see a variety of wildlife including both Spinner and Pacific Bottlenose dolphins, dozens of fish species, coral reefs, and even the occasional Hawaiian green sea turtle's.
What are the chances we will see dolphins on this tour?
Dolphins are wild animals, so there are no guarantees that we will see any. However, our guides have lots of experience and knowledge about the tides and the places they like to inhabit, so it's rare that we don't see any.
Are drinks or food served on the trip?
Yes, Local Deli Style Lunch choices of Turkey, Ham, Roast Beef, Vegetarian, snacks, Local Juices, soft drinks are included in your trip! We typically will enjoy lunch near the end of the trip when we take a break to snorkel. Alcohol will not be served, however you are welcome to bring it along but can only consume alcoholic beverages after snorkeling for safety reasons
Can I bring food or drinks on the trip?
We will provide drinks, a deli lunch and snacks. However, feel free to bring additional food, drinks, or snacks.
Usually we don't get wet on the boat. However, if it rains or if it is a windy day you may get an occasional spray from the water.
We provide about 1 hour for snorkeling and Lunch. We plan to snorkel at Makole, Ke'e Beach (tunnels) Nualolo Kai or Kekaha and Kaumakani if the surf is up along the Napali Coast.
Do you provide snorkel gear?
Yes! We provide all snorkel gear and flotation devices, you my also bring your own. If you require prescription or optical masks we have a variety of them to choose from.
Do I need to know how to swim?
It is recommended that you know how to swim when snorkeling. However, we do provide flotation gear for those who do not know how to swim.
What about those who don't want to snorkel?
Not all passengers wants to snorkel, its not unusual as we have none-swimmers daily. You get to relax on the boat while watching some of the fishes next the boat, having a talk with the Captains or Crew that's on board and having your lunch at the same time, it can be relaxing and fun while no passengers are on the boat.
What should I wear and what should I bring?
Pack like you are going to be spending the day at the beach! We suggest wearing swimwear or beachwear. It might also be a good idea to bring hats, towels, and sunscreen. We provide cold drinks, a deli lunch, fruits & snacks.
Is there an available bathroom?
Yes, both of our boats are equipped with a restroom for your convenience. The Makana is a little smaller due to being a smaller vessel.
Is there any shade on the boat?
Yes! We have a canopy that provides shade and there's cushioned seating as well. We have open deck seating, all forward facing and open air. You may choose to relax in our shaded and cushioned seats, or ride in the warm tropical sun on the padded deck seating. Expect the sun to shine in from the sides of the boat as they are open. Therefore, we'd still recommend sunscreen.
Is the cruise suitable for pregnant women?
Since we're the only tour company in the area who allow pregnant women to participate (depending on weather conditions), we require a written consent from a doctor. Pregnant women should consult with their doctors before participating, check the weather conditions, and bring the doctor's consent upon check-in. If you have any questions, please contact us 808-201-2495
Our guests usually find the tour boat to be a very steady vessel. While we hope that no one gets sick, we advise you to consult with your doctor about taking preventative measures beforehand if you are prone to motion sickness.
Are life jackets available on board?
Yes, life jackets for all passengers are provided on board. You are not required to wear a life vest while on board, but we have them available should you want to wear one.
Do I need to sign a liability waiver?
Yes, all participants must sign a liability waiver before the tour. Any participants under the age of 18 must have an accompanying adult sign the waiver for them.
Is the boat handicap accessible?
The Makana cannot accommodate wheelchairs and is not handicap accessible. if you are able to be lifted onto the boat by someone in your party and sit in a seat on board then we recommend going on the Na Pali Coast Tour on the Na Pali Kai 3.
Is there parking available nearby?
Yes, parking will be available at the meeting location. Detailed directions will be provided immediately upon purchase.
Are gift certificates available for the trip?
Yes! Gift certificates are great for any occasion. To purchase a gift certificate, click on the "Contact TourNapali" link.