The state of Hawaii is a well-known spot for cliff jumping among thrill-seeking adventurers. If you ask locals where the best cliffs are, they may point you to Oahu or Big Island. Kauai won't be a recommendation you will likely get, but the Garden Island also boasts a few rugged cliffs worth checking out.
In this article, we'll share 5 of the best cliff jumping spots in Kauai including things to prepare when visiting each cliff. Please note that while these spots are fairly accessible, we recommend only engaging in this activity with an experienced guide. Once that's sorted, get ready to yell "Geronimo!" 
1. Shipwrecks Beach
Up in Poipu is a special little spot called Shipwrecks Beach. The cliff jump is right at the end of the left side of the beach, featuring an exciting 40ft jump. Regular cliff divers say this spot is one you shouldn't miss.
To get to the jumping spot, you'll have to walk up the cliff from behind and then edge your way down to the tip of the coastline. From the cliff, you'll have the opportunity to spot turtles and humpback whales in the water. There is also a coastal walk that starts at Shipwrecks Beach called Maha'ulepu.
A word of precaution for any of the spots we feature in this article: Always be on the lookout for changes in tides, sandbars, rocks, and debris before jumping into the water. Although most cliff divers haven't touched the bottom of the water in this spot, it's best to prioritize safety. 
2. Waipo'o Falls
Although Waipo'o Falls is more known for the amazing viewpoints it gives travelers access to, the small waterfall behind the main waterfall actually makes a great spot for some good old cliff jumping. It's the perfect spot to zen out on a fairly busy hike. 
The hike from the trailhead to the main waterfalls only takes 30-40 minutes. It should be good for groups who don't have much time or are new to hiking. Allot some time for scenic breaks and picture taking – the hike features amazing views of the Waimea Canyon, also known as the Grand Canyon of the Pacific.
Because the adventure involves a long hike, make sure to wear appropriate clothing to avoid slipping or getting caught in something. You may want to avoid going on a rainy day as muddy trails can make the path and any cliff jumping activities dangerous. 
3. Queen's Bath
On a calm day, the Queen's Bath can be a cool and refreshing place to hang out in and do a little bit of cliff jumping. However, anyone who comes to this unique landmark always has to be extra careful – close to 30 people have lost their lives in this spot due to extremely strong swells.
The Queen's Bath is a unique tidal pool bound by igneous rock. It consists of the main pool surrounded by smaller pools with crystal clear water and even small fishes swimming in each. In the summer, waters in the pool and off the cliff are usually calm, making it the best time for visitors to try bathing like royalty or jumping into the waters from steep rocks.
Getting a local's help in identifying when the waters are safe to explore should be your priority before heading out. If the weather doesn't permit any activity around the area, don't worry! Just enjoying the view from a safe spot will still be worth experiencing.
4. Makaleha Falls
For those who want more action, cliff jumping at Makaleha Falls may be your cup of tea. It's an exciting jungle waterfall adventure that will require some strength and can leave you covered in mud. 
The trail isn't well-defined, but following the stream should lead you to Makaleha's huge set of cascading falls. The waterfalls area is also a popular cliff-jumping spot, but make sure to do some inspection for depth and rocks first as this spot can be very dark. 
The hike to Makaleha Falls is arguably the most challenging one out of all we're discussing in this article. You'll be weaving in and out of roots and vines, wading through currents, and dealing with slippery moss. We definitely recommend packing the right gear for this one, and only going if you think you have enough stamina and strength for the adventure ahead. 
5. Ho'oipi'i Falls
The last spot is something you'll find familiar if you've seen the movies Jurassic Park or Amber Mine. Getting to Ho'oipi'i Falls is one of the best short hikes on Kauai, but it rewards you with a scene worthy of being shown on the silver screen.
Ho'oipi'i consists of 2 falls, and you'll reach the first one about 20 minutes into the hike. It's only deep enough in certain parts, so get guidance from a local who knows where the rocks hide beneath the waters. 
The main falls is the area that has served as a backdrop for various Hollywood movies. Aside from being a great place to just relax and take pictures in, there are also a couple of jumping spots to enjoy. You can even try swinging through the waters with a rope, but be careful of hitting rocks or protruding tree roots. 
Where Are You Cliff Jumping?
Ready to get your adrenaline running? Kauai offers travelers as many opportunities for seeking thrills as it does for relaxation. With its abundance of sprawling cliffs and waterfalls, there's sure to be a spot for any level of cliff jumper out there. Beginners can start by exploring the places on this list, but we encourage experienced travelers to explore every nook and cranny of the beautiful island of Kauai. 
There is so much excitement waiting to be found with every stone unturned, yet It's always important to note that caution must be observed when going beyond the vibrant veneer of Kauai's lush green forests and crystal clear waters. Don't hesitate to get guidance from locals who know the island. You'll enjoy the island more when you put your safety first. 
5 Best Cliff Jumping Spots in Kauai [Infographic]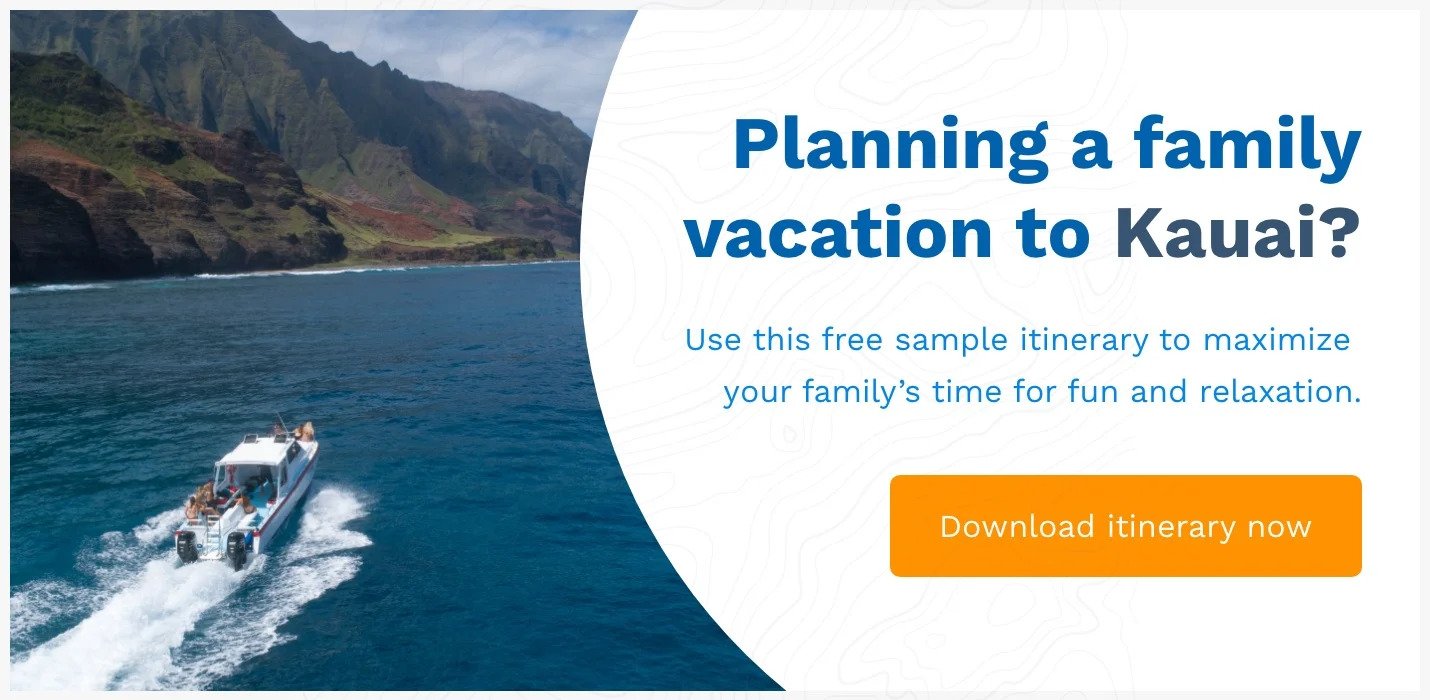 Related Articles
Summary
Article Name
5 Best Cliff Jumping Spots in Kauai
Description
In this article, we'll share 5 of the best cliff jumping spots in Kauai including things to prepare when visiting each cliff.
Author
Publisher Name
Publisher Logo